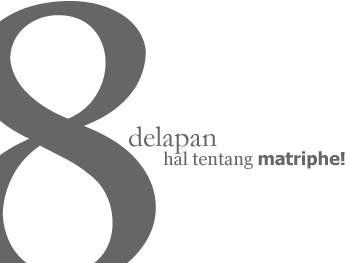 Dapet ancaman dari Simbok sama rayuan dari Fany. Intinya disuruh nulis soal 8 kebiasaan atau fakta yang belom diketahui khalayak.
Mayan lah, buat bahan posting. Mosok blog isinya cuma kluyuran terus? Lah? Ini kan blog jengjeng! :))
Sebenernya agak-agak malu juga sih ngumbar beginian. La emangnya saya ini siapa? Emang penting? Tapi ndak papa lah kalo anda-anda para fans penasaran.. b-(
Oke-oke, mungkin udah pada tau aturannya. Jadi langsung saja kita kemon.
each blogger must post these rules. each blogger starts with eight random facts/habits about themselves. bloggers that are tagged need to write on their own blog about their eight things and post these rules. at the end of your blog, you need to choose eight people to get tagged and list their names. don't forget to leave them a comment telling them they've been tagged and to read your blog.